The end is near…for Windows XP.
Microsoft recently announced that the final date for support and updates for Windows XP is April 8, 2014. Actually, they have extended support for XP multiple times the last 4 years, but set this date over a year ago and are making their huge publicity push to get the word out.
After studying the issue and ramifications for Windows XP users, I am recommending that if you are using Windows XP for your Internet access, that you stop doing so after April 8, 2014. If you never use your Windows XP on the Internet (or keep it connected to the Internet), then you can carry on without the issues I will discuss below.
Without Microsoft providing periodic updates for Windows XP, it will become progressively less secure (and it is already the least secure operating system in use today). Antivirus programs and other protection software can only do so much if the foundation (Windows) isn't maintained and will eventually end support for XP as well.
Again, the bottom line, in my opinion, is do not use Windows XP on the Internet (or keep it connected to the Internet) after April 8, 2014.
Recommended Options for XP Users after April 8, 2014 (no particular order)
Upgrade your existing system to Windows 8.1 (will only work easily on computers built after 2006 and even then will require a clean install (must back up your data, and you will lose all your programs and settings).  Cost:  $120-199 for Windows 8.1 disk and a lot of time and effort connecting all the dots.
Buy a new laptop or desktop with Windows 8.1. Cost:  $300 and up plus time and effort to transfer data from old system.
Buy a new Chromebook with the Google Chrome operating system.  Cost:  $200 and up.
Buy a new laptop or desktop with Apple operating system (Mac OSX). Cost:  $600 and up.
Buy and use an Apple iPad as your only computing device. Cost:  $500 and up (with extra keyboard).
Upgrade your existing system to Linux Mint as outlined below. Cost:  Free and about an hour or so spent backing up data and setting up new system.
Yes, other options do exist, but these are the most feasible, again, in my opinion.
Upgrading (and it is a great UPGRADE to Windows) to Linux Mint
Linux Mint is a customized version of the most popular Linux system, Ubuntu. Ubuntu/Linux are alternative operating systems to Microsoft Windows or Mac OSX. I like Linux Mint because once installed, it contains all the necessary software to meet almost any computer user's needs with no need for further installation of productivity software, hardware drivers, etc. It also looks and operates very similarly to Windows XP, AND you can download a REAL manual here. Over the past 6 years, I installed Linux Mint on over 2 dozen customer computers who all continue to use the system trouble free!
Since Linux Mint is its own operating system, it will not run your Windows programs (unless you want to learn how to install, configure and use WINE).
 Who should consider using Linux Mint
Windows XP refugees who use their computers for email, online banking, web searching, word processing, spreadsheets, card games, and/or working with digital photography.
Any computer user frustrated with Windows and its lack of security and performance.
Who should NOT consider using Linux Mint
Computer user who requires a proprietary Windows program or custom package specifically for Windows.
Any computer user who does not enjoy learning.
Ready to upgrade to Linux Mint? Here's how:
Backup all your important information now! Use USB flash drives, CDs or DVDs, the cloud, or external drives, but backup and test your backups before taking another step. If you are using a desktop email program like Outlook Express or Outlook, it would be easier to install Mozilla Thunderbird under Windows and let it import your data before backing it up for the new Mint install.
Did you backup? No, go back to Step 1.
Go to LinuxMint.com and click the download link and wait for up to 45 minutes depending on your download speed.
This is a good chance to check your backup. Did you do that? If not, go back to Step 1.
Once the backup finishes, you will need a blank DVD+R or DVD-R to create the disk for installing Linux Mint. If you don't know how to burn an ISO image, I recommend downloading and installing the free Active ISO burner from this link.
Watch this short video demonstrating how to download and burn Linux Mint to a DVD:
Now that the DVD is created and your data is backed up (It is backed up, correct?  Because you will lose everything on your computer when you start this next section), it is time to install the operating system.
Leave the DVD you just created (known as a Live DVD) in the dvd drive and shut off your computer.
Wait about 30 seconds and push the power button on your computer. In just a few moments, the Linux Mint DVD will take over and boot all the way to this screen (could take 3-5 minutes on older computers…be patient):
Take a few minutes to look around Linux Mint to make sure you like it and it likes your computer. The "Menu" button, in the lower left corner of the screen, operates just like the Start button in Windows. Click it and test the system out. A good way to test all systems is to Click Menu –> Internet –> Firefox Web Browser. Then test some of your favorite web sites and especially something with sound and motion (like YouTube.com). This simple test will checkout your Internet connection, sound system, and video settings all at the same time. During this testing phase, nothing has yet been deleted or changed on your hard drive…you are using Linux Mint entirely from the DVD you created.
When you are ready to say goodbye to the security woes and maintenance nightmare of Windows XP, double-click the Install Linux Mint icon on the desktop and follow the simple wizard to get your computer setup with this great and super capable system.
Watch this short video to see how to navigate through the installation wizard:
Congratulations! You have just completed the upgrade from an older and increasingly insecure operating system to a modern, secure, and fast system that you can successfully use for a long time. On your first boot up, you will see the Linux Mint desktop similar to this one: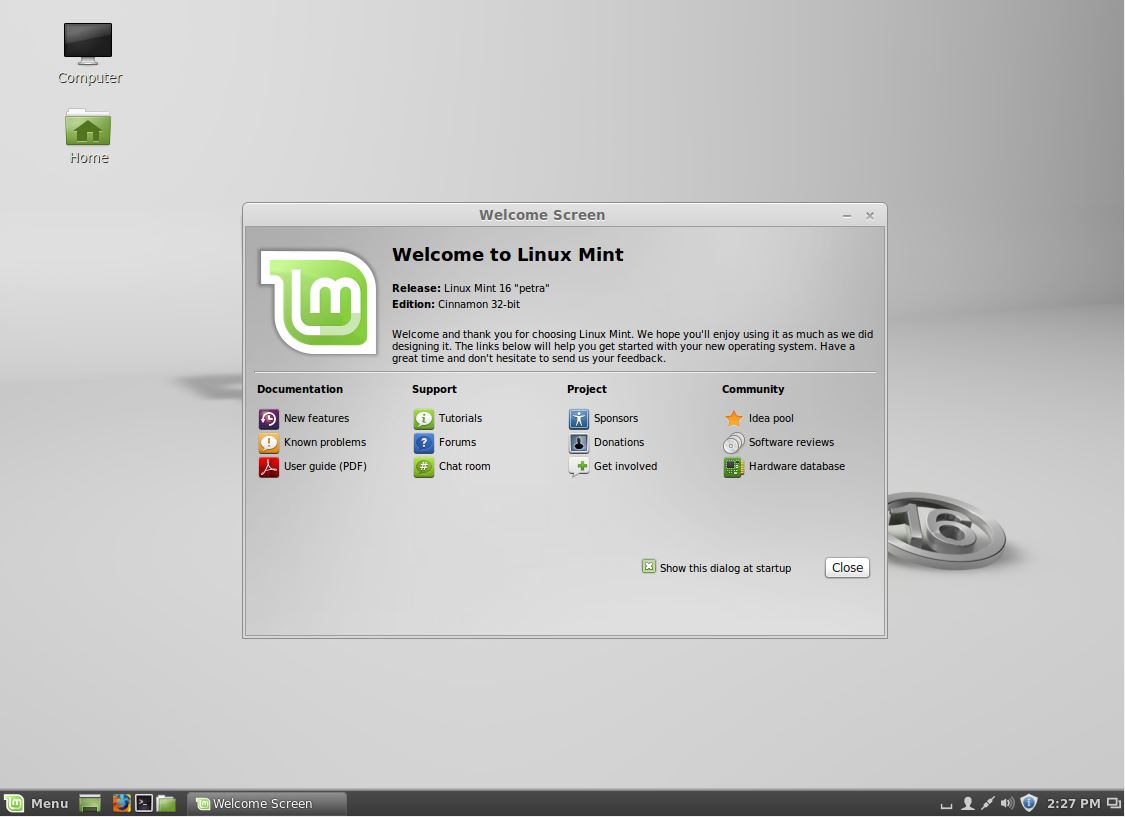 These next steps and video will give you the basics on how to get up and running quickly with Linux Mint and make it your own. And remember, you can get to the Linux Mint manual here. Also, the online community and forums for Linux Mint are a great resource with your new system.
Configuring Linux Mint to your liking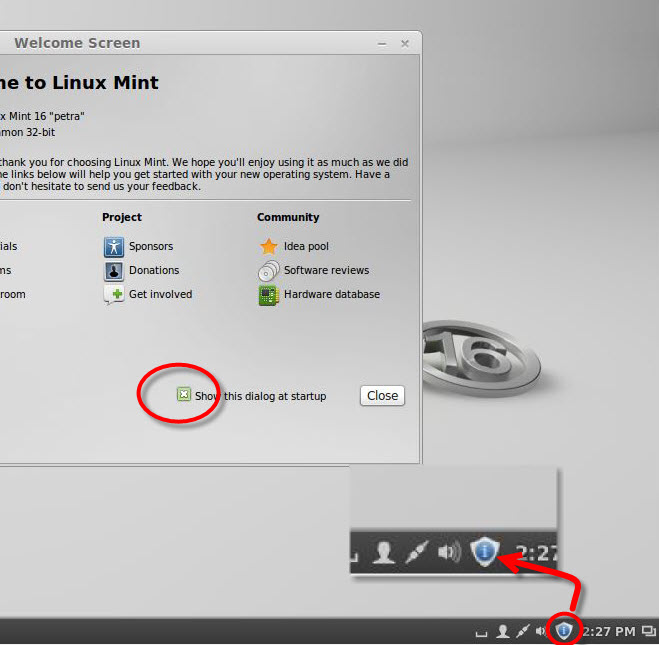 Unless you want to see the Welcome to Linux Mint screen each time you reboot your computer, I recommend unchecking the box next to "Show this dialog at Startup"
Next, we need to let your new system get up to date. Like any good operating system, updates are distributed when fixes to problems or improvements arise. When Mint has updates available, you will be alerted via a white shield with a blue dot in the middle of it by your system clock.
Click the updates one time and in a few seconds you will be prompted to enter your system password
Click Install Updates on next screen.
Initially, there will be many updates. This is normal since you are installing a fresh operating systems. Subsequent updates will not take as long.
Remember the "Menu" button at the lower left of the screen is the same as the Start button you are used to using with Windows. With it, you will access all programs, settings, and tools you need to use Linux Mint.
To copy your data from your backup, insert your flash drive, hard drive or DVD and almost immediately you will be presented with an icon on your desktop representing the disk you plugged in or inserted AND a window opens showing its contents. From the screen that appears, drag your data to the folder on your hard drive where you want to store the data. Note that like Windows and Apple computers, Linux creates a "Home" folder for you that contains sub-folders for documents, music, photographs, and more. Of course, you can create your own folders as well. Watch the video below for a demonstration of these steps.
See these steps and more in this short video:
Lastly, these next steps and video will give you an introduction to installing new programs, changing your desktop, and adding or removing programs (like games) to your new system!
To change the desktop wallpaper, RIGHT click anywhere on the desktop and click "Change Desktop Background". You can choose from the ones included or add your own photos.
To add Solitaire:
Click Menu button
Click Software Manager and enter your password
Use the search box and type:  aisleriot
In the results box, the aisleriot Solitaire games will appear, double-click it , then click the Install button
To add Sudoku, chess, mahjong and many other games:

Click Menu button
Click Software Manager and enter your password
Use the search box and type:  gnome-games
In the results box, the gnome-games will appear, double-click it , then click the Install button

Use the Software Manger to search for and try out 1000s of applications and games…all are free.
To remove a program, go back to the Software Manager, search for the item you don't want any longer, double-click it from the results, and click the Remove button.
If you would like to add a program shortcut to your desktop, here's how:
Click Menu
Find the program you want to add to your desktop
RIGHT click it
Click Add to Desktop
Watch this short video below to see all these steps in action:
Please share this tutorial with your friends and family who might be frustrated with Windows slowness and security problems. And share with your friends and family who might be trying to figure out what to do with the retirement of Windows XP on April 8, 2014.