One common problem I help solve every day is the recovery of passwords. For some reason, tracking passwords and usernames becomes a daunting task for most computer users.
The advice I dispense most often when asked how to track all of the usernames and passwords we accumulate these days is to simply write it down. Not just anywhere, however, but in an address book, on an index card and filed in a recipe box, or on full sheets of paper.
Over the years, I have shared many other tips about passwords (including my popular Password Mania tip which includes links to software utilities to help with the process), but until now have never offered up a solution that you can start using today…right now!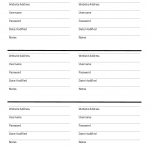 At the end of this article, you can download (for free) and print out some blank password tracking sheets that I've designed for you! One of them is landscape in orientation and can track up to 16 sites and login information, and the other is portrait in orientation and can track 6 sites per sheet.
Try them out and see which you like better, then 3 hole punch them and put them in a binder or just keep them in a file folder and keep them near your computer for handy reference.
IF you want to use your computer to type on the forms, I have created one computer fillable form for each of the designs. No extra software required, you already have the software necessary on your computer…Windows, Mac or Linux!
Don't wait any longer, get the forms and start organizing your passwords today!
TIP ON SAVING THESE FILES: Many PDF readers will open these documents directly into your browser. This works fine if you want to just print them and move onward. However, if you want to save the form, click the Save button on your reader's toolbar OR you can RIGHT click the form links above and choose save as to save them directly to your computer.
I would love to hear how you like the forms…so please leave a comment below sharing your comments, suggestions, or hints.