Within the last two weeks, Mozilla Firefox updated our browsers (if you have the automatic updates enabled) to version 29. This update exhibits their most radical change of the Firefox interface since version 4. To me, they took a big page from the Google Chrome browser playbook and made it their own.
As usual, change in the technology world creates an initial furor, but take a few minutes to finish this article and watch my short instructional video at the end of the article. The video demonstrates how you can customize, navigate, and use the new features in Firefox and find some of the features you might find missing.
The most dramatic visual change to this version of Firefox is the new sparse menus and focus on the tabs…again,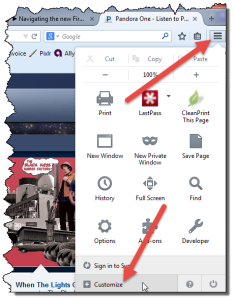 copied straight from Google's Chrome browser. I personally like the direction of the browser stepping to the background and let the web and its content step forward. You might not share that view and that's ok. That's what makes computers and programs great is that you can make the tools work for you.
By making the menus and toolbars more sparse in this version of Firefox, the engineers at Mozilla created a great new customizable menu and ability to customize the toolbars even more than ever. To find the menu, click the menu button at the far right of the screen, then click Customize at the bottom of the menu.
Take a few minutes to get to know this new menu and how you can customize it, and I believe you will enjoy these changes.
Also, be sure to watch my short instructional video below to get over the learning curve even faster!