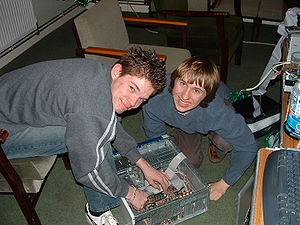 It's no secret that I am a computer consultant/trainer/troubleshooter. So, why would I potentially take food out of my own hand by writing this tip?
Three reasons:
I like to help people and share knowledge
I dislike troubleshooting messes that could have prevented and
I enjoy teaching people how to get the most out of their computers instead of being frustrated and constantly battling or worrying about the computer.
In a nutshell, I whole heartedly believe that IF a computer user follows these simple rules, their computer will become a useful tool versus an expensive adversary.
Subscribe and read the Castellini on Computers newsletter. We provide a great deal of troubleshooting and prevention tips every week.
Listen to our program as often as possible and CALL if you have questions BEFORE you make the plunge into something that seems foreign or you aren't totally comfortable with doing or purchasing.
Visit this web site (HelpMeRick.com) often! Use the search engine, read the tips (and follow them), look at our recommended products and reviews of new products or services.
BACKUP YOUR IMPORTANT DATA OFTEN!! I know capitalizing words on the Internet insinuates yelling…I am yelling.
Keep an anti-virus program (any anti-virus program) running on your computer all the time and keep it UPDATED (not the same as scanning weekly).
Use the Windows firewall and/or a router if you use a broadband connection.
Install your Windows Updates!
Check your computer for spyware (a.k.a. malware and adware) using any of the products I have linked on the Links page at the top of this page..
Read more details about these eight important points and more here on this web site using our Tip Archive or the search engine. Please take advantage of it and share it with your neighbors, friends and family.