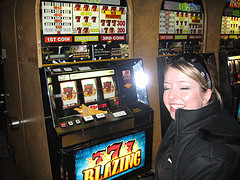 Visitors who stop by HelpMeRick.com with any frequency the past 4-5 years know that I'm a huge cloud computing (using applications on the web versus installing programs) junkie. Today, I was reminded of one area where desktop applications still provide a better experience than the web…card, board, and casino games.
A client was frustrated with trying to play pyramid solitaire on a site that "used to work". Thus one of  the problems with web based gaming. Here are the other shortcomings of online gaming, in my opinion:
Required plug-ins and updates to these plug-ins
Too many ads
Having to sign up for an online account
Having to pay for premium features
Sites change and can end up in the hands of spyware purveyors
Searching for gaming sites can land you in then hands of spyware purveyors
I do like that web based games give you the option of playing on any computer connected to the Internet and with other web users (if you desire). But these two features are unimportant to a vast number of casual game players.
Enter the world of store bought software. For casual board, card, or casino games, I recommend the Hoyle CD series. The games cost only $20, don't require a web connection, and contain dozens of games. You can purchase Hoyle games on Amazon.com,  your local office superstore, WalMart, BestBuy and even Target. They are easy to install, safe, fast, and fun.