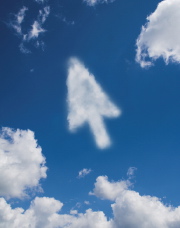 Cloud computing definition: Using a web site (app) to perform computing functions like word processing, spreadsheets, video and image editing, financial management and more.
Ten years ago we used the web as a resource to find information. For productivity work, we installed programs that lived on our computers as did the data. If we had extra computers or needed to have access to that information on a different computer, it had to be transported to that computer via CD or flash drive AND that computer needed to have the same program to read the information. This system works, but has become increasingly inconvenient, expensive, and frustrating.
Fast forward to today and with a little knowledge and practice, you no longer need a computer to compute. Furthermore, I contend that more than 80% of computer users should NOT buy a traditional computer because of the advances in cloud computing (Web 2.0). The 20% who need a traditional computer are:
Business owners who need access to proprietary software
Professional level photographers and videographers
Computer users requiring the use of a specific software program that does things not replicated on the web (CAD, custom software, extreme high end functions of word processors, spreadsheets, etc)
Communication
Cloud based email programs like Google's Gmail and Yahoo mail have for years been far more functional and usable than their desktop counterparts. And more recently, Microsoft revamped their Hotmail (MSN) system as Outlook.com and AOL also retooled their web-based email to keep up with the leaders.
Document Creation.
Google Drive (formally documents) leads the way in online word processing, spreadsheets and presentation management followed by Zoho.com's offerings and Microsoft's new Office 365 (subscription) and Sky Drive (free).
Photo Storage, Sharing and Management
Many of these types of sites exist, but the standouts are Picasa Web Albums (increasingly Google+), Flickr, Shutterfly, Photobucket, and Facebook. Benefits include easy sharing, easy printing, access from anywhere, and automatic backup.
Photo Editing
My favorite in this category is Pixlr.com. Adobe announced this week that they will no longer sell desktop products of their popular creative software like Photoshop and Premiere. Instead they have gone full force to web-based apps of all their creative software and dubbed it Creative Cloud.
Financial Management
This may be the fastest growing area of web applications! Even your own bank's web site might be a better fit and easier to use than Quicken. Seriously, check out the money management tools available on your bank's web site the next time you log in to pay a bill or check your balance. Beyond the bank, my favorite personal money manager is Mint.com (purchased by Quicken a few years ago), but others to compare are Money Strands and Yodlee.
For businesses, almost all financial matters can be taken care of with sites like Quickbooks.com, Zoho Books, Fresh Books, or Kashoo. For several years, I have handled my invoicing with Zoho Invoice and couldn't be more pleased.
Take a look at the few number of software titles in the local big box store compared to ten years ago…and even less quality boxed software. Web-based, cloud computing is here and it is here in a big way. And the clock will not be turned back, computing will continue to gravitate to the web and mobile devices. Get on the bus now and enjoy the benefits and freedom!