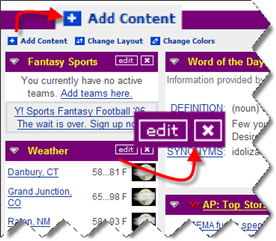 In this month's group, we talked about and demonstrated how to set up a web page that can be personalized. I like to use a customized web page (portal) as my home page (first page that shows up when I start my browser). We looked at the Yahoo portal (My Yahoo) and the newer Google customized home page.
Both services require that you register and setup a user name and password. Once you register, you can customize your page to include weather information, stock portfolios, sports news and scores, news from industries or topics that you choose, comics, and even content from other web pages. Both services are free and give you the flexibility to add, subtract and edit any type of data that you choose.
After you sign in, first look for the "X" in the upper right hand corner of each content box. This "X" lets you close (remove) that section from your page.
Once you close all the sections you don't want, look for the "edit" button on the sections you left to add, change or customize content for that area (add or subtract headlines or information for that topic area).
Next, click on the Add Content option to add additional topics to your customized page.
Use that Change Layout to customize colors, number of columns and more.
Last, both services let you drag and drop sections to arrange the order and position of your custom content.
One other way you can really add a personal touch to your custom home page (online newspaper) is by adding your own favorite content. The best way to do this is add RSS feeds to your page. Read our RSS tips for more information about this great service offered by many web sites: RSS – Part I, RSS – Part II.
Once you put all this work in to create a custom web page of information, make sure you change your browser's home page to your new custom page (these steps will work in both Mozilla Firefox and Internet Explorer):
1. Bring up your new custom page
2. Click Tools –> Options from the menus
3. Click "Use Current" under the home page box.
4. Click Apply and OK at the bottom of the page
To see how all this is done visually, please watch our video below: