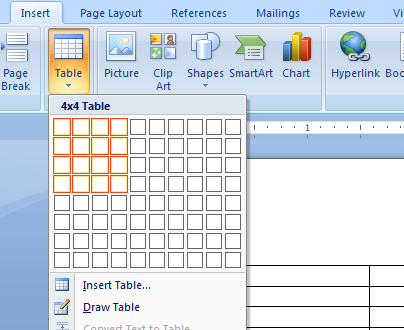 Since many of us in the post-35 year old set learned how to type and create documents with a typewriter, we tend to try and use computer word processors like a typewriter. The two technologies couldn't be further apart from each other and other than touch typing, we need to throw out almost all our knowledge of document creation from those days.
| | | |
| --- | --- | --- |
| FRUIT | COLOR | VITAMINS |
| Apple | Red or Green | Vitamin S |
| Peach | Peach | Vitamin J |
| Blueberries | Blue | Vitamin B |
No one task illustrates this better than making a list of information in column format (like the illustration on the left) If we try to use tabs to create a three column list in the middle of a document, we are quickly reduced to cursing or babbling incoherent words under our breath. Instead, if you take a few minutes to learn how to use tables in your word processor, you will be creating beautiful documents in record time. Trying to explain how to create a table in words is impossible, you need to see the steps in action which is why I provided you with a video tip. Click the "Read More" option below if the video hasn't already started to play for you. To repeat the video, simply push F5 on your keyboard or the refresh button in your browser.