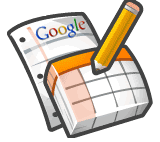 You know that I write about Web 2.0 (cloud computing) often. To me, working in your browser is easier, safer (for backup), and more consistent than using desktop applications. And since most of us use only the bare minimum of features for document creation, why spend $100s of dollars for name brand applications. Online applications offer full Microsoft Office compatibility with minimum fuss and no cost or installation required.
I've written about and done video tips on Zoho.com's online office suite (a personal favorite), but for many Google Docs might be easier and all that is needed. Google announced today that they completed three beginner guides covering their online word processor, spreadsheet, and presentation manager. Click the link below to see the guides.
Official Google Docs Blog: For Beginners: 3 Getting Started Guides.