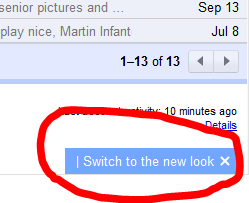 UPDATE: I posted this tip in November of 2011, but many Gmail users didn't have the new Gmail interface yet, so I'm bringing this back out of the archives since all new accounts and most exiting ones are now in the new format.
Starting today, Google is rolling out the option for you to try out there new interface (look and function). You will see an option to try out the system in the lower right hand side of your Gmail screen (see picture at left for what it will look like).
In a nutshell, don't be overwhelmed by the new streamlined and minimalist look…all the things you are used to using are there, I promise. Take a just a few moments to orient yourself to the look and feel, customize the theme (highly recommended), then sit back, relax and enjoy even greater productivity with your Gmail account. Watch the video to see the new features in action, and to help get up and running quickly with the changes. Also keep in mind that all my past tips about Gmail (click here to see them), still apply!