Last year when Apple upgraded their iOS operating system that runs millions of iPads, iPhones, and iPods, there seemed to be a collective sigh. Many people love Apple products because they don't change things up too drastically, too quickly. Although not a drastic change, the most striking was the look of iOS 7. Fonts are thinner, taller, and there is a lot more white and less contrast going on in this new update.
Fortunately, one of the best things about Apple's mobile operating system remains one of its least talked about features; the accessibility features. Anyone can and should use the accessibility features to make their device work the best for them. In today's tip, I demonstrate a quick way to make the iOS 7 screen a little easier to read…should you need a little help like me. Here's how:
Tap your Settings icon on your iPad or iPhone
Tap the General section
Tap the Accessibility section
Tap Larger Type
Turn the feature on by tapping the slider button at the top of the screen
Use the slider bar to adjust type size to your liking (note that not all apps will honor the new size)
OPTIONAL for even greater readability
Tap back to Accessibility
Turn the Bold text on (your device will restart after enabling this feature)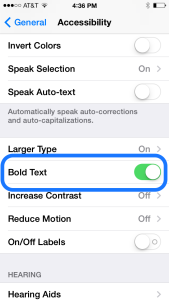 Enjoy your new, easier to read iPhone or iPad and please share this article with your friends, colleagues, and family!
Here is a short video demonstrating this tip: