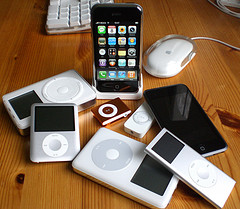 If you use an iPod, iTouch, or iPhone and plan on getting a new computer, you will want to read this article! OR, if you use any of these devices and want to make sure your library stays safe, you will want to read this article!
Yesterday, I helped a customer setup a new Windows 7 computer and transfer email, favorites, and other data from his old Windows XP computer. Turns out that he also needed to move his iTunes library of more than 8,000 songs and almost 150 playlists!
There isn't too much I panic about when I arrive at a customer's home or office, but moving large, customized iTunes libraries is something that does get me a little nervous. In the past, I have had to open an iTunes XML file in a word processor and then use find and replace to enter the path to the storage location on the new computer. It was extremely difficult and tedious.
I am happy to report that I successfully transferred the entire 36 gigabyte library and playlists using the following technique:
On the old computer, open iTunes
Click Edit –> Preferences from the menus
Click the Advanced tab
Click the check box next to Keep iTunes Media folder organized (if it isn't already)
Click OK
Click File –> Library –> Organize Library (if the box wasn't checked, be prepared to wait for a few a minutes as iTunes organizes your library).
Now close iTunes and copy your entire My Music folder to an external hard drive, or you can do as I did and pull the hard drive from the old computer and use an USB hard drive adaptor to connect it to the new computer.
DON'T COPY THE MUSIC TO THE NEW COMPUTER YET.
Instead, download and install iTunes on the new computer
Start iTunes and repeat steps 2-5 (above)
Close iTunes
Open the Music folder on the new computer
You should see an iTunes folder, double-click it
Now you will see either an iTunes Music or iTunes Media folder (doesn't matter what name it has)
Click one time on the folder and delete it
Connect your backup hard drive to the new computer and navigate to the My Music folder and open it
Push Ctrl+A on your keyboard to select all contents in the My Music folder
Drag the files to the Music folder on the new computer
Click yes when asked if you want to overwrite any existing files with the same name
Close open Windows
Start iTunes and your libary, including playlists, should be there.
Good luck!
For those of you with a DVD burner on your system (most systems built after 2006 include a DVD burner), you can backup your iTunes library and info via DVD using these steps:
Make sure you have 5-20 blank DVDs (DVD-R or DVD+R) on hand for the backup
Start iTunes
Click File –> Library –> Backup to Disk from menus
Click Back Up button
Follow on-screen instructions.
To restore the backup:
Start iTunes
Insert the first DVD in the backup set
Follow on-screen instructions
Links to Apple's official instructions on this process: