Give this quick, little tip a try on your iPhone or iPad and watch the enjoyment of reading on the devices soar!
The function is called "Reader View" and is used in the Safari app on your device. Reader View doesn't work for every web site, but it does for many. In a nutshell, Reader View strips away all the formatting and most ads from any page  you are reading and lets you read an article with less distractions on your mobile screen.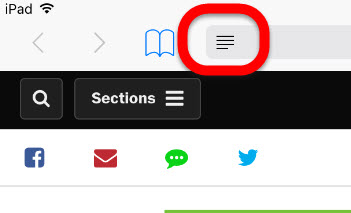 To use Reader View:
Open Safari on your iPhone or iPad
Navigate as normal and when you arrive at an article you want to read, look for the Reader View icon in the address bar in the upper left corner
Tap the Reader View icon one time and the article you are reading is instantly transformed into a more readable and customizable view
Tap the aA icon on the upper right side of the screen to make text smaller or larger and change background colors for easier low light reading
To leave the Reader View, tap its icon one time
Take a look at the quick one minute video below to see these steps in action! And as always, please share this article with your friends and family!!