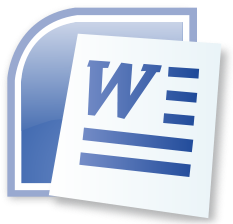 If you use Microsoft Word to create any kind of document that includes pictures, wrapping text around a picture can be frustrating. Today's tip will give you some easy to follow steps that will have you wrapping text like a pro. A bonus of using this tip is that you can also move your pictures around your document to almost any position.
As is my cardinal rule of word processing, type all your text in first then add pictures after your text is finished. To insert a photo or other image into Word:
Position the cursor where you want the picture to appear
Click Insert –> Picture –> From File (note that you can also scan pictures directly in at this point also)
Navigate to your photo
Click Insert
Resize your photo to the size you need
If you click ONE time on your photo, the eight 'handles' (little black squares) should appear around the picture. At this point, you should also see a small toolbar titled "Picture". If you don't see the toolbar, RIGHT click on your picture and click "Show picture toolbar". With the picture toolbar showing, follow these steps to wrap the text around the picture:
Click ONE time on the picture of the little dog (see illustration)
From the choices that appear, click the Square option
That's it, now your text should be wrapped around the text. As I mentioned at the beginning of the tip, the bonus of following these last two steps is that you can click in the middle of your picture and drag it anywhere in your document.