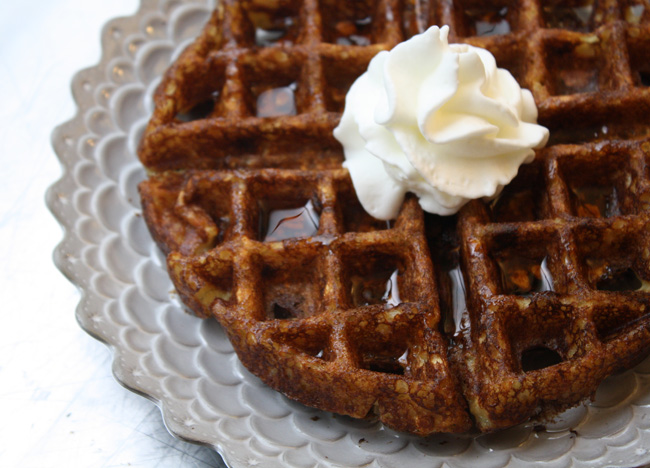 In today's computer user group meeting while demonstrating Evernote, I showed the group (and raved to them) about this Oatmeal Waffle recipe I ran into a few years ago. I believe that I found it at the orangette blog, but can't find it there now.
Anyway, I LOVE breakfast breads, and this waffle recipe is amazing because I also love buttermilk and oatmeal. The group felt my passion for the recipe and asked me to share it, so here it is:
Oatmeal Waffles (or Pancakes, if you must) (from orangette)
Makes about 3 large Belgian waffles…my favorite variation: sub one small, very ripe mashed banana for the sugar, and cut back on the butter by half.
Ingredients
1 cup rolled oats
1 cup buttermilk
1/4 cup all-purpose flour
1 tablespoon sugar
1/2 teaspoon baking powder
1/2 teaspoon baking soda
1/4 teaspoon table salt
1 large egg
4 tablespoons unsalted butter, melted and cooled a bit
Stir together oats and buttermilk. Cover and refrigerate overnight.
When ready to make the waffles:
Whisk together flour, sugar, baking powder, baking soda, and salt. Add eggs and melted butter (add banana now if using) to oat mixture, and stir well. Add flour mixture; stir until just blended. Batter will be very thick.
Cook using a waffle iron set to medium-high–I turned the dial to 5 and cooked it a little longer than the built-in timer said to. If you're using a banana you'll probably need to go a minute longer–I take them out when the flow of steam has slowed down significantly.
To make pancakes, heat a griddle over medium to medium-high heat and cook using 1/4 cup scoops of batter, flipping when the underside is golden brown and the top looks set around the edges.
ps…here's the link to my favorite Oatmeal Raisin Cookie recipe that I posted almost 4 years ago.