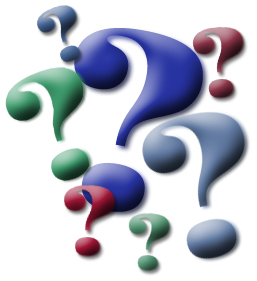 Last month I asked the Grand Junction Computer User Group members to help me come up with ideas for future meetings, and they came through in spades! I received almost a few dozen ideas and questions. Some of the suggestions were more questions than entire presentations, so this month, I'm going to write out those questions here with their answers!
Attendees of this month's meeting got to see me demonstrate and expand on these answers.
Thanks for all the great questions and suggestions everyone, and please keep them coming via email or comments here at HelpMeRick.com.
Q:  How to save group emails in your email program?
A:  I think the essence of this question is organizing email. I'm a huge fan of and practice Zero Inbox email organization. No matter what email service or program you use, it offers the ability to create new folders other than the Inbox, Sent, Trash, and Draft that is standard. Setup folders (Gmail calls them Labels since it is the ONLY service that lets you categorize emails in multiple places) for newsletters, jokes, family email, etc. Then you can drag or move the messages you want to save out of the Inbox and into their respective folders.
————–
Q:  How to not use your name when sending email?
A:  All email programs let you choose what is known as the "Display Name", or you can choose to use no name at all. The display name can be your first name and last name (or just the first or the last), or you can make up a name.
————-
Q:  Transferring pictures from phone to computer.
A:  Since there are so many phones out there, I'm going to be very general on this answer. If you have a smart phone (Android or iPhone or Windows Phone), you can email them to yourself, connect your phone to your computer and download them like you would your regular camera, or use an online service like Picasa.com or Flickr.com to upload them to the web from your phone.
Some simpler flip phones or feature phones can also be connected to your computer and their photos can be transferred much like a digital camera. Usually this involves changing a setting in the phone to have it act as a "mass memory device" or "disk". Check your documentation for more information.
————-
Q:  How to download music, video or books to a smart phone or tablet.
A:  The simplest way is to use the tools that came with your smartphone or tablet. If you are using an iPhone or iPad, then use iTunes to do these things. If you are using an Android tablet or phone, then use the Google Play store. On any of these devices, you can download the Barnes and Noble Nook or Amazon Kindle apps for magazines, books, and audio books. If your local library supports it, and Mesa County Library system does, download the Overdrive app to digitally check out books and audio books.
————
Q:  Desktop display  problems too large or too small and adjusting screen displays.
A:  This is one of the hardest questions for me to answer since the answer is counter to what you might think is natural. In a nutshell, the larger the screen, the smaller the text. The reason for this is the high resolution of the larger monitors. This answer is best demonstrated by video or in person, so here are some past tips that incorporate this question, and I demoed the answer in class today too:
—————-
Q:  Google announced that iGoogle (customized web portal or home page) will be retired in November 2013. What should we do, if anything?
A:  I'm still thinking about this one. I think someone will come up with a solution to port/move your favorite news and info sites to a new one directly from Google. Worst case scenario, you will have to re-create it with Yahoo's custom portal (I linked the how-to on this in the question).
—————
Q:   Getting rid of unwanted emails.
A:  Usually when I'm asked this, the person is referring to advertising and newsletters that they signed up for years ago and no longer want. The best thing to do for these types of emails is scroll all the way to the bottom of the message and click their unsubscribe or change email preferences option, then follow the instructions on their unsubscribe page…they are all different, so read carefully.
—————–
Q:  Printing PDF files…they won't print, get a PRN file instead.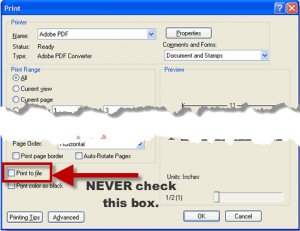 A:  For some crazy reason, many versions of Adobe Reader still have a Print to File check box(see illustration) available when you click Print. This is a throw back to yesteryear when sometimes businesses took PDFs to printers in this format. It has zero use for home users and even for many businesses today, make sure it is never checked and all will be right again with printing PDFs.
————–
Q:  Why some photos on email come through, and others end up with blue squares and a question mark (or a red x in a box)?
A:  This occurs when the sender forwards or sends a message and the photos did not come with the original message. There is nothing you can do other than ask the sender to try sending it again.
————–
Q:  How download videos and send them on email to different individuals?
A:  If the video is an attachment, you can RIGHT click and save the attachment to your computer, then compose a new email and attach the video you saved just as you would a photo. If the video is actually a link to YouTube or other video site, then you have to copy and paste the link OR just forward the message then edit out the previous emailer information.
————
Q:  Go through all Documents headings…a million choices but no explanations.
A:  I didn't fully understand this question, so if the author of this question can give me more information, I will answer it.
————
That's all the questions from last months feedback. Below are the topics that were generated from the passed around list and will become upcoming presentations at the users group:
Picasa
iPad
Smartphones and apps (including syncing and iCloud, etc)
Google Earth
Ubuntu/Linux
Evernote (including scanning, saving documents to cloud)
Gmail
GPS
Managing Passwords
Tricks and Tips for Google Chrome and Firefox (browsers)
The ONLY question/topic listed that I will not cover is Quicken. The two topics that I never cover or help folks with are games and financial programs. I can answer extremely general questions about TurboTax, Quicken, etc and help install them, but I offer no tips or training on them.
Again, thanks so much for all the great questions and topic suggestions, please keep them coming!!